Six Songwriters Selected to Perform at Tennessee Songwriters Week Finale at The Bluebird Cafe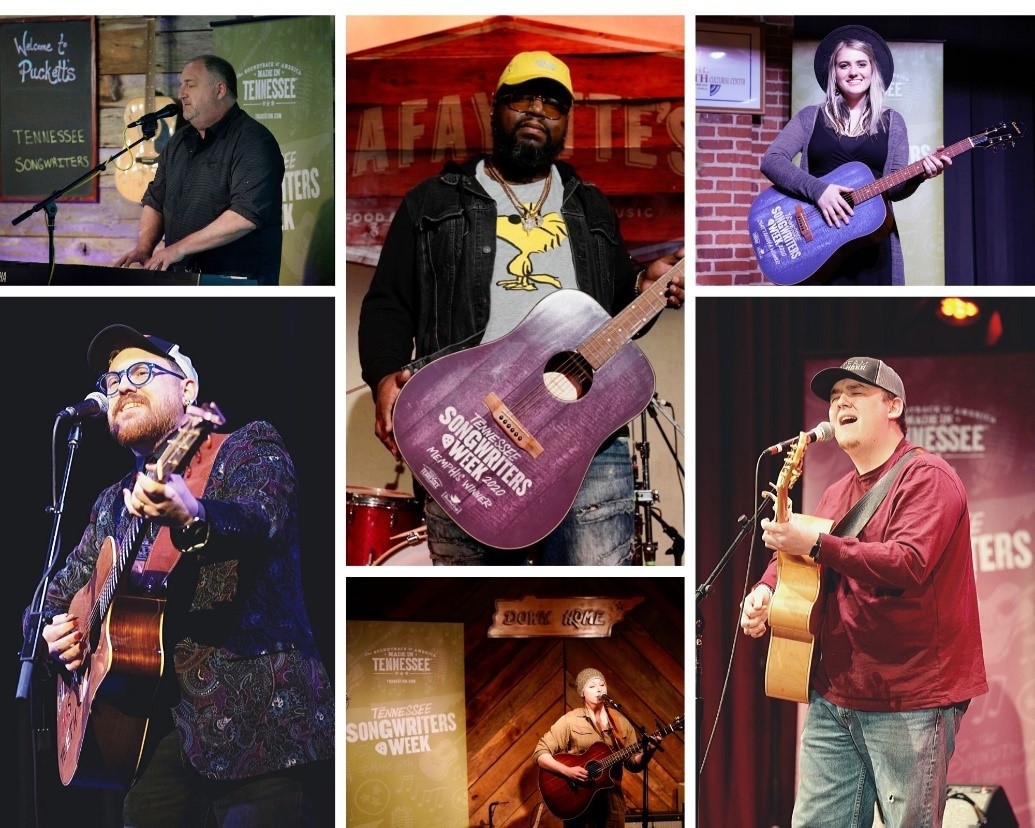 NASHVILLE, TN -- March 9, 2020 -- Top songwriters from Tennessee Songwriters Week will perform at The Bluebird Cafe during a private event Sunday, March 29. TDTD, in partnership with The Bluebird Cafe and NSAI, held six showcases in Franklin, Memphis, Knoxville, Chattanooga, Gatlinburg and Johnson City during the second annual Tennessee Songwriters Week Feb. 23-29. 
Adeem Bingham of Knoxville, Jay Da Skreet of Memphis, Courtney Holder of Chattanooga, Allen J. Morrell of Murfreesboro, Beth Snapp of Kingsport and Jacob Vaughn of Reidsville, North Carolina were each invited to perform their original music in a final showcase event at The Bluebird Cafe. The winners received a specialty Tennessee Songwriters Week-branded Epiphone guitar, a free one-year membership and individual mentoring session with Nashville Songwriters Association International (NSAI), a two-night hotel stay in Nashville, tickets to a show at the historic Bluebird and a travel gift card.
Allen J. Morrell moved the crowd to tears with his original song "Songwriter," winning the showcase at Puckett's in Franklin. "Regaining My Weight" by hip-hop artist Jay Da Skreet had the crowd stomping their feet and laughing at his creative use of lyrics and sound at Lafayette's Music Room in Memphis.
"I honestly don't know what to say," Adeem Bingham, winner at The Bijou in Knoxville, wrote on Instagram. "There were so many songwriters tonight whose performances moved me immensely and I'm beside myself that I was selected to sing a second song. I am honestly overwhelmed with gratitude."
Singer-songwriter Courtney Holder, winner at Bessie Smith Cultural Center in Chattanooga, is excited to return to the stage at The Bluebird Cafe. "I am absolutely humbled beyond belief to have shared the stage with so many incredible artists, whose songs moved and inspired me," said Courtney. "Thank you for believing in me."
North Carolina college student Jacob Vaughn earned the fifth spot on the stage at The Bluebird with his song "One of Those Days." Beth Snapp, whose supple melodies won the competition at The Down Home in Johnson City, says she has songwriting in her DNA. As a child, she felt connected to the sounds of Appalachia where she was raised and performed in a gospel trio with her mom, aunt and cousin.
In 2019, 100 songwriters performed at 5 events across the state during Tennessee Songwriters Week. In 2020, The Tennessee Department of Tourist Development expanded to quadruple those efforts to include 39 qualifying rounds, six showcase events and special events across the state. The 2nd annual Tennessee Songwriters Week saw more than 1,000 songwriters perform at stages from Memphis to Mountain City.
Tennessee is home to seven genres of music and legendary songwriters whose work and craft are celebrated worldwide, including A.P. and Mother Maybelle Carter's foundation Appalachian ballads, Isaac Hayes and David Porter's soul sounds of Memphis and Felice & Boudleaux Bryant's state anthem, "Rocky Top." To preserve their legacy, a state statute designates the last full week of February as "Tennessee Songwriters Week" to celebrate the foundation of the craft, recognize past and present songwriters and pave the way for future artists.
In addition to the qualifying rounds and showcases, venues and business held special events such as songwriter spotlights, in-the-rounds and educational opportunities to celebrate songwriters and drive visitation. The Farragut Community Center hosted its 2nd Annual Songwriters in the Round featuring performances by Dave Landeo, J Luke and Jason Ellis. Loretta Lynn's Ranch in Hurricane Mills hosted  Wine, Women and Song, a celebration of women songwriters with performances by Leona Williams, Irene Kelley and Jessie Key. Songwriters also performed at Tennessee Welcome Centers across the state. 
For more information, visit tennesseesongwritersweek.com, follow @TNVacation on social and join the conversation using #TNSongwritersWeek.